It has already been almost two weeks since we returned from Minnesota.  Our trip from July 23rd to August 3rd was fun, but also very busy.  We traveled all over the state visiting friends and family, trekking from Minneapolis, to Atwater, to Duluth, to Wolverton (near North Dakota), and down to Faribault.
On Thursday, July 23rd, after our 29 hour ordeal to make it to Minneapolis, Melissa's mom Janell picked us up at the airport and drove us to Atwater.  We had a delicious rib dinner at the Johnson's, with Melissa's Aunt and grandparents also out to see us.  Unfortunately I don't think either of us were very interesting to talk to; being so jetlagged, it was hard to concentrate on anything besides moving the fork between the plate and my mouth.
After some much needed rest, the next day we loaded into a van headed to Duluth.  Melisa's parents drove the whole way up.  Once there we first made a delivery of flowers for Melissa's cousin's wedding, then visited a Johnson family friend named "Shorty", and finally found our way to a cabin a few miles north of Duluth that the Johnsons had rented for the weekend.  For dinner Friday night we went to Two Harbors, and met up with a friend of Melissa's from high school, Eric Adams, who currently lives in Duluth.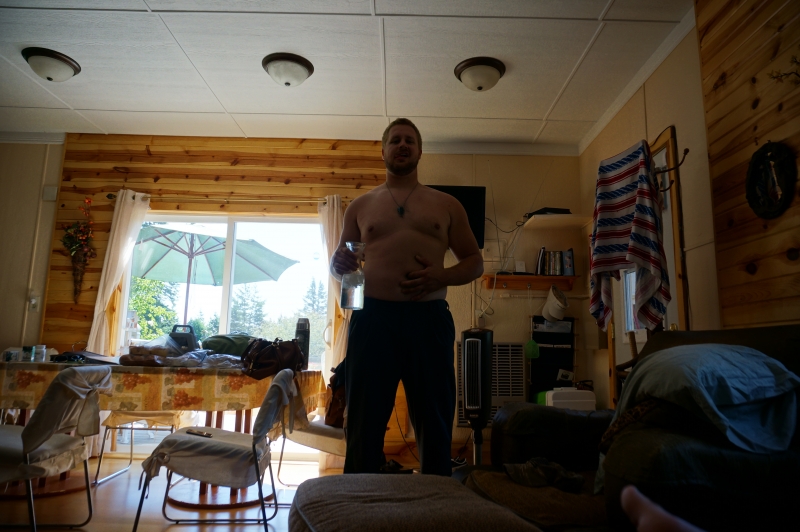 Saturday July 25th, the day of the wedding, Melissa and I found an advantage to being jet lagged.  We both woke up restless before the sunrise, and decided since we couldn't sleep it would be a good time to go down to Lake Superior and test out our camera.  I think we got a few good shots.  For lunch Melissa, I, Kyle, and Eric (who had agreed to be Kyle's date to the wedding) went to Fitger's brewery and hung out by the lake before the ceremony.  It was a hot day, and a full catholic mass.  The wedding went off without a hitch, and it was great to see and visit with so many of Melissa's relatives at the reception.
The next day, Melissa and I, along with Keith, Janell and Kyle, drove almost all the way across the state to see Kyle's new home in Otter Tail county.   Melissa and I both took the opportunity to get back in the driver's seat of a car.  It had been since November of 2014 that either of us had driven a car, but luckily, neither of us had forgotten how.  Kyle started a job as a probation officer in the county, and was fortunate to know someone with a lake home looking for a renter.  The pad is quite nice and spacious, and it was nice to delve into a seclusion that you just can't find in Europe.
We stayed the night Sunday with Kyle, then on Monday July 27th we hit the road again to visit Melissa's friend Renata, who lives in Wolverton Minnesota, a tiny town within sight of the Red river.  Melissa spent some time catching up with Renata while Keith, Janell, and I entertained Renata's children, Lilli and Anton.  The family had  recently relocated to the city, so it was fun to check out their house.  A highlight of mine was when Lilli decided Keith was an "Old Man" and kept calling him one as if it were his name.  After lunch we said goodbye and headed back to the Johnson farm in Atwater.  For dinner Monday we dined with some of Melissa's relatives at the same American Legion in Spicer where Melissa and I had our wedding reception the year before.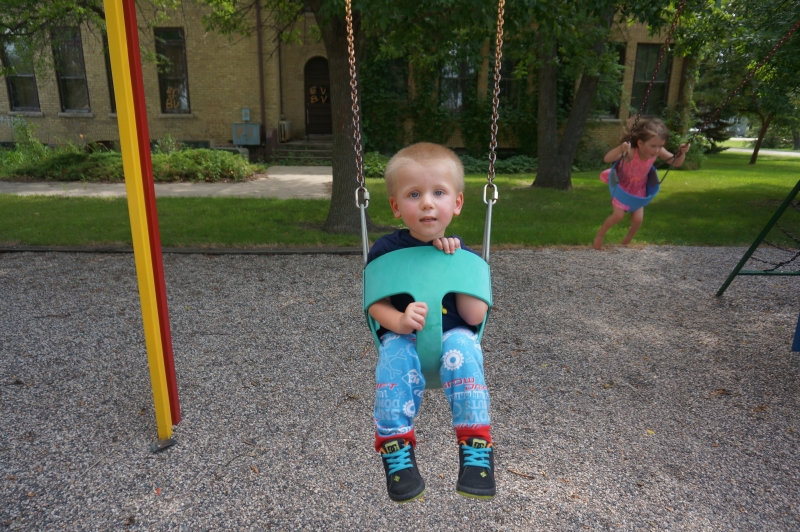 The next day we headed off to Litchfield around lunchtime to visit Melissa's Grandma, Mae Johnson.  It was a lovely time to catch up, and we gave her the information packet we received when we visited her brothers grave in The Netherlands.  In the afternoon we said our goodbyes to the Johnsons and left for my brother and sister-in-law's house in St. Louis Park.  We had Pizza Luce delivered for dinner, and my parents and brother Mike came up as well to visit with us.
On Wednesday July 29th we slept in, and had a little less busy of a day.  We still managed to meet up with some friends at the Surly brewery for lunch, and for dinner we went to Legends bar with some kickball friends.  The good bitter American beer, large portion sizes, and pleasant company gave us a fun laid back day.
We spent the day Thursday shopping.  The prices are much cheaper in America than Switzerland, so we spent most of the day at Mall of America, DSW, and Target looking for clothes and shoes.  We had an All-American evening at a Twins baseball game, and we can happily report that they won 9 to 5.  After the game Melissa successfully used her Swiss residence permit to buy a beer at a bar, and I thought it would be funny to leave the bartender a Swiss franc as a tip, but I didn't watch long enough to see if he figured it out.
Friday morning we slept in, then went off to Chipotle for lunch to see if we could still finish a burrito after so much time in Europe shrinking our stomachs.  Chipotle is my American comfort food.  I haven't found a similar restaurant here, but the burritos were so delicious that we both found a way to push through and finish them.  Friday afternoon we arrived at my parents farm in Faribault, and had dinner with them and my grandparents.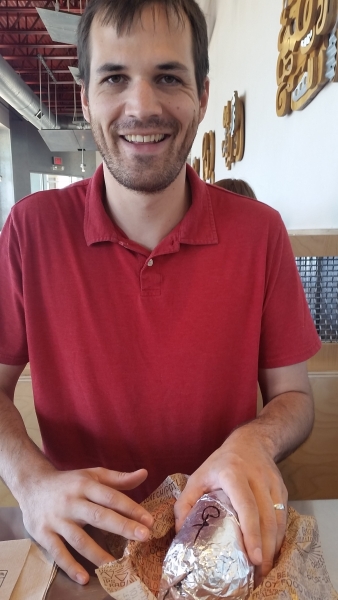 Saturday August 1st, Melissa and I parted ways to maximize our socializing.  Melissa left Faribault in the afternoon to travel to Spicer and attend her class reunion.  I stayed with my parents, and had a friend, Mike Blonigen, and his girlfriend Sarah Green come out to visit and play the yard game kubb.  It was strange to spend a night away from Melissa, when I think about it, I can't remember the last time before this that we weren't together at night.
On Sunday we had a big family get together with both sides of my family at my parents house along with Keith and Janell who came down with Melissa.  It was a nice day for sitting outside and chatting, some people went tubing down the river, we played a game with water balloons, and explored my Dad's flower gardens.
Monday August 3rd was our last day in Minnesota, and my brother Mike's birthday.  Janell had us go on a hunt through Faribault to find a house her grandparents used to live in,  then we had dinner in Millersburg.  For dessert we had ice cream cake back in Faribault to celebrate Mike's birthday, then in the afternoon Keith and Janell drove us up to the airport for our 7:50 p.m. flight out.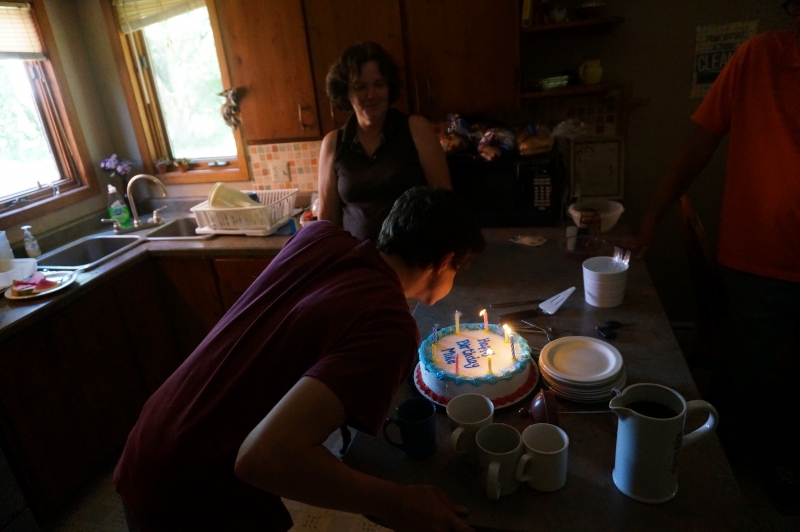 Whew! I'm tired from just writing about and remembering everything we did!  It was an interesting feeling to be around so many familiar people and places, but know we might not see them again for a long time.  I am satisfied though, that we crammed in as much as we could with the time we had.