From Thursday July 23rd until Monday August 3rd Melissa and I had a whirlwind vacation back in Minnesota.  After looking forward to the trip for so long, now that we're back, I'm surprised and a little sad at how fast the time seemed to go, though I'm satisfied with how we spent our time, packing as many family and friend visits as we could into 12 very busy and fun days.  In this post I want to write about the time that was not so fun, and did not seem to pass so quickly: all the required travel to make it to Minnesota and back to Switzerland again.
From where we live the two best options, both about equal in terms of stress and time, are to either fly out of Geneva or Paris.   Geneva is about 40 minutes away by train, but there are no direct flights to Minneapolis, so the flight time would be a little over 12 hours requiring one transfer. The Paris airport is about 4 hours away by one high speed train and a taxi or metro ride. Despite the time it takes to get the airport, the flight to Minneapolis is a direct one from Paris with only 9 hours of airtime.  At the time we were looking for tickets, flights out of Geneva were about $1400 and flights from Paris about $1200.
In the end, we chose neither of those quick and easy options.  We instead opted to fly out of Turin, Italy which required travel on 4 trains, 2 taxis, and 3 flights for a total time of 29 hours, and that was just on the way over! The trip back was a bit easier with only 2 flights, 1 bus, and 3 trains for a travel time of 17 hours.  All of this extra hassle was in the name of saving money because the tickets from Turin were substantially cheaper at $850 each.
If anyone wants to make the flight over here to Europe to visit, I think its a valuable travel tip to know that Intra-Europe travel is relatively cheap.  Often times it makes sense to simply fly into the cheapest airport you can find on the continent and take local transportation to your final destination.  However, we hope you can learn a little bit from our experience and our excessively long travel times.
Our biggest oversight, which made our whole itinerary long and difficult, was booking a flight from Turin, Italy that left at 6:30 a.m.  It's a five hour train ride from our apartment to Turin, but the train lines don't run in the middle of the night.  The latest times the trains would get us to Turin were either 10:45 p.m or 1:10 a.m., and the next train wouldn't arrive until after 8 a.m., well after our flight would have taken off.  As we did more research though, we found more difficulties, and felt forced to choose the 10:45 p.m. option.  In Turin the public transit only goes to the airport until around midnight, which is also the time that the airport closes.  If we could get through the doors at the airport before it closed we'd be ok to stay there until the morning, otherwise the doors would reopen at 4 a.m., and the baggage counter would reopen at 5 a.m.
So, with a plan in mind, we boarded our first train, in the French language region of Switzerland, at 5:30 p.m. Central European Standard Time (CEST), or 10:30 a.m. Central Standard Time (CST) on Wednesday July 22nd.  We traveled the short distance to Lausanne's main station, then transferred to a train that would take us to Brig, Switzerland, near the Italian border, in the German language region.  I haven't traveled enough to say for certain, but I think the train ride from Lausanne to Brig has to be one of the most beautiful in the world.  It has Lake Geneva, ancient wine terraces, and breathtaking views of the Alps through the Rhone valley, scenery like nowhere else I've seen in the world.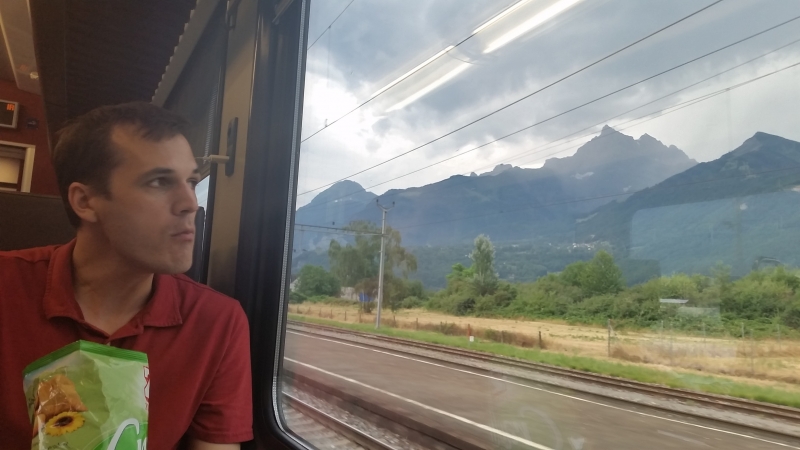 At Brig, our train into Milan, Italy was running 17 minutes late.  Once in Milan we would have 35 minutes to transfer to our final train, so we weren't too concerned, but I still had a mini panic for 5 minutes thinking we'd be late, when I screwed up converting the military time.  The ride to Milan was also very beautiful.  It begins with a 19.7 km (12.2 mile) long ride through the Simplon Tunnel, one of the longest rail tunnels in the world, that goes under the continental divide of the Alps into Italy.  Exiting the tunnel we traveled through the Italian Alps, which jut up just as starkly as in Switzerland but seemed to be covered with more lush vegetation.  We rode along a large alpine lake called, Lago Maggiore and saw many picturesque Italian villages.
In the end, there was absolutely no reason to worry about missing our transfer, because when we got off the train in Milan and checked the boards for our train to Turin we found it to be delayed 60 minutes.  That was just long enough to screw up our whole plan to get to the airport before it closed.  We sat on a bench at the noisy platform, getting bit by mosquitoes, in very hot humid weather trying to come up with a new plan.  Fortunately the station had free internet, and Melissa came up with a plan to stay at a hotel.  I was trying to be cheap, saying we could just wait in front of the airport until it opened, but eventually gave in to the hotel idea (I'll admit that the shower in the morning almost made it worth it).
The train delay changed to 70 minutes, then 80 minutes, and eventually, 82 minutes after the scheduled time, we were on our way to Turin.  After getting off the train we found a line of taxis in front of the station, and rode with a driver who lived up to the stereotype of aggressive Italian driving.  He sped through the narrow streets of the downtown, and along special lanes reserved for taxis, and quickly along the Autostrada to the hotel we booked online near the airport.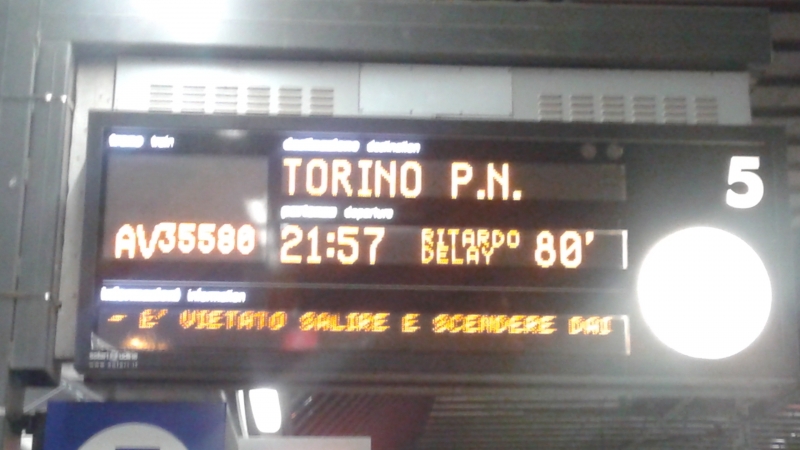 At 12:35 a.m. we checked into the hotel and arranged for a taxi to take us to the airport at 4:55a.m.  Even though we were only there for a short time, we both did get some sleep, and it was nice to be able to brush our teeth and take a shower.
From the time we got to the Turin airport Thursday morning until we landed in Minneapolis everything went smoothly and according to plan.  In Turin we breezed through check-in and security by 5:18 a.m. then waited outside our gate area until 6 a.m., when an employee let us in.  We flew KLM to Amsterdam, then had an hour long layover before our next flight, which was to Toronto.
We both were able to take a few short naps on the 7 hour flight across the ocean, but it was hard to sleep long with some crying babies in our section, and the flight attendants coming by at least once an hour to give us food or drinks.  In Toronto, we had to collect our checked bag, then go through Canadian customs.  This brought us back to the general area of the airport so we then had to re-check our bag in, go through a US customs set up at the airport, and security again.  We made it to the gate with plenty of time to spare, and got exit row seats on our last flight, giving us the best leg room of all the flights.
After a short 2 hour flight from Toronto we landed in Minneapolis around 2:50 p.m. CST.  It was fun to see the lakes and other landmarks as we flew in, and to pick out the places we used to live.  I've become used to Switzerland, so I was surprised to notice how flat Minnesota is from the air.  Melissa's mom, Janell, had come to pick us up, and a few seconds after finding our bag we found her. We were then finally home!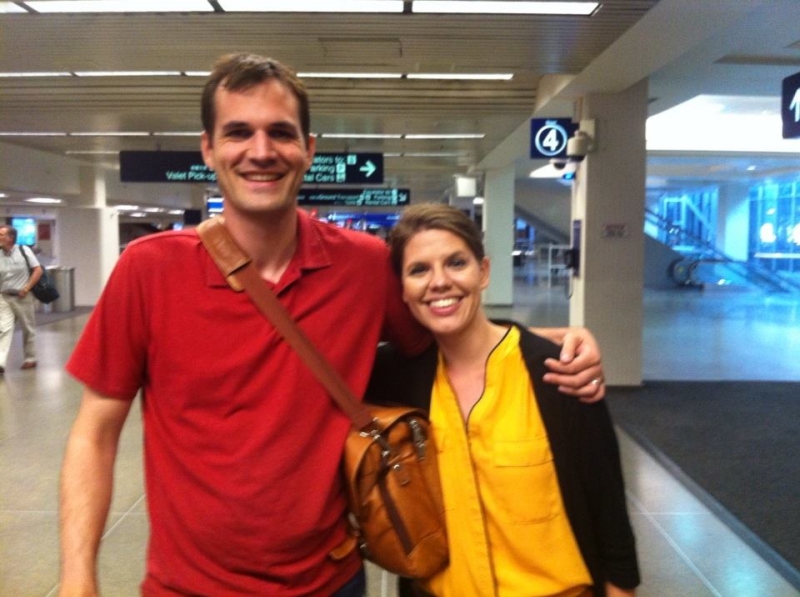 The journey back went much smoother because all the travel in Europe was during the day.  We had a direct overnight flight to Paris, then a short flight to Turin.  It would have been nice to skip the flight to Turin and take a train home from Paris, but we talked to the agent at the Minneapolis airport and she said its not allowed and our bags had to be checked all the way to Turin.  From Turin we took the same rail route through Milan and Brig, arriving back in our apartment around 9 p.m.
From our experience I think we learned a few things:
Don't be afraid to fly into or out of different cities if the price is right
…but be sure to plan out the transit to the airport ahead of time, so that you don't get stranded at a closed airport
Going with the flow, and being able afford unplanned taxis and hotel rooms makes traveling much easier
Italy is home to some of the best food and wine in the world, but never count on their trains to run on time