Time flew by on our Christmas market tour, and before we knew it we were off to visit the last city of our tour, Salzburg, Austria. We woke up Sunday December 11th near Austria's eastern border, in Vienna, then, after a two and a half hour train ride, we arrived in Salzburg, near Austria's western border. Our crowded train was run by a private company called Westbahn that strangely had us wait to buy tickets until the train was in motion. In all my train riding around Europe, this was the first train I rode where we couldn't buy the ticket at the station.
Our ride through the Austrian countryside gradually entered the rolling foothills of the Alps as we approached Salzburg. Clouds and sporadic rain hampered our views, but occasionally there would be breaks that allowed us to see the far-off, snow-capped mountains. Around 1 p.m. we pulled into Salzburg's main station, then easily found the hotel we booked right next to the station.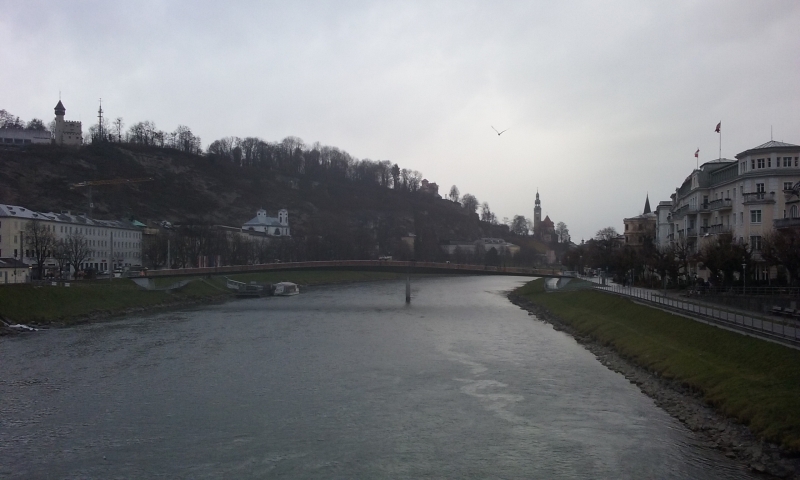 It was cold and drizzly when we set out to explore the city, and it remained cold and drizzly the entire time we were out. We first visited the historic Loreto Church, just a short bus ride away, then we walked through the curving streets of old town Salzburg toward the Salzach river. After crossing the river we took much the same route through the remainder of old town Salzburg that Melissa and I had taken with her relatives the last time we visited, although we skipped going up to the castle this time.
We walked past Mozart's birth house, past St. Blasius's church, past an artistic fountain featuring horses called the Pferdeschwemme, through the plainly decorated, and highly vaulted Kollegienkirche, then came to the city's main Christmas market in the main square called the Residenzplatz. After a little shopping and glühwein to warm us up, we continued our walking tour by checking out Salzburg's Cathedral. In the cathedral's crypt there was an interesting art piece that featured a small grim reaper rotating around a light to cast a shadow in the room. While the grim reaper moved around a recorded voice stated the time every few seconds. The piece is supposed to make you think about the passage of time and your mortality.
After exiting the cathedral we did a little more Christmas market shopping in the Domplatz square just next to Residenzplatz. My Mom picked up her final Christmas tree ornament, and Janell grabbed her last souvenir mug. We stuck our heads in a church called Franziskanerkirche to get a break from the cold and rain, then we finished up our sightseeing by wondering through a medieval graveyard. Back at the hotel we were all relieved to have a chance to dry out and warm up.
For dinner we found a promising looking beer hall that would be just a short train ride away. However, as we were discussing it we noticed the train would leave in 4 minutes and that it only came once an hour. I thought there would be no way we could catch it, but hey what European vacation can be complete without at least one frantic run to catch a train? Amazingly we made our train just in time.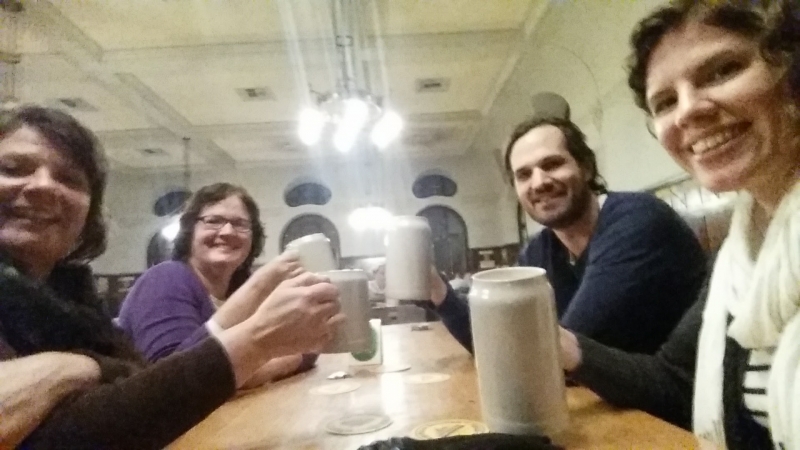 It took a little bit of wondering around to find the brewery, then, once inside, it took a little bit of wondering around to find a place to sit and figure out how to order. There were no waiters in the beer hall, so it was seat ourselves, and order ourselves. To get beer we grabbed a mug off the self and walked up to the beer counter where we could order one of two kinds. For food there were maybe five different counters set up in the hallway between the rooms of the beer hall. With a point of our fingers, and paying the server, we had our good, hearty, German-style food without a wait.
Time flies when you're having fun, so it went that we soon found ourselves heading back to the hotel. The next day we boarded a train for Munich right after enjoying the hotel's breakfast buffet. The hour and forty minute train ride was a bittersweet time for us to reflect on how fun the trip had been, but also to regret that it was now over. At the Munich main train station my mom, and Janell boarded a subway to the airport as the first step in their long journey back to Minnesota, while Melissa and I hopped on a bus to begin our journey back to Switzerland.