While searching for flights back to the United States, we stumbled across a round trip ticket from Frankfurt, Germany on July 4th, that was considerably cheaper than any other ticket—even one way tickets. We decided to buy it. A perk with the July 4th departure was that we had a few days to go on one final European tour. Our tour began with a night bus ride to Hamburg, Germany on Friday, then after two days of sightseeing, we traveled south to Britt Sieber's hometown of Salzgitter, Germany on Sunday. She and her family graciously hosted us until Monday, then we traveled further south to Frankfurt, Germany where we only briefly saw any of the city before boarding our flight to the U.S.A.
On the morning of Thursday, June 29th we packed all the possessions we had left in Switzerland into two laptop bags, two carry-on suitcases, one large suitcase, and one large camping pack. We then said goodbye to our apartment, and stored our things at Melissa's office, until Friday. Thursday night we stayed in a hotel near Lausanne, then on Friday I made sure all our Swiss accounts were closed while Melissa wrapped up her final day of work. At 3 p.m. she was ready to leave work for the last time.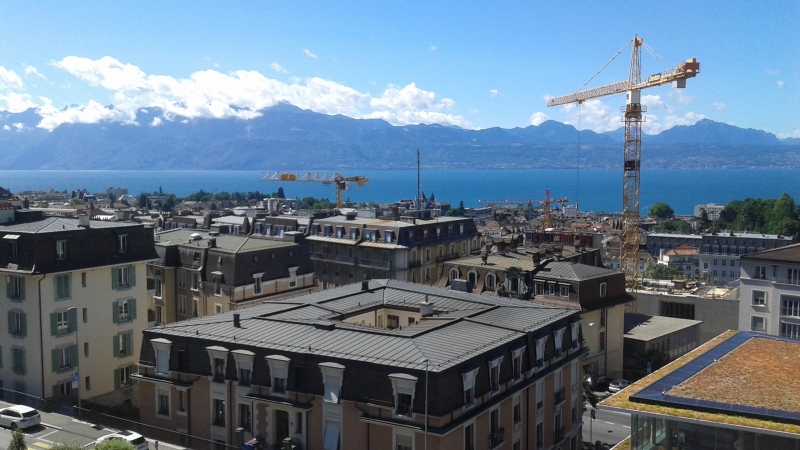 It was a beautiful, sunny day as we lugged our luggage into Lausanne. At the front of both our minds, as our train travel took us first to Bern, then to Basel, Switzerland, was the bittersweet realization that we didn't know when or if we'd ever see the dramatic landscapes of our adoptive country again. The rugged Alps, that we had grown so accustomed to always seeing, disappeared behind the horizon as the view out our train window changed to rolling Swiss farm fields broken up by the periodic, tightly-packed, small, medieval villages.
In Basel we lamented that we had never taken the time to explore this third most populous Swiss city as we waited for our night bus. A few minutes later than scheduled it showed up, and then, after loading our luggage, we luckily were able to find empty seats next to each other on the top level. Melissa and I normally prefer train travel to bus travel, but the price of thirty Euros a piece all the way to Hamburg, versus over a hundred a piece by train, sold us on taking the bus.
Soon after our bus started rolling along, we were forced to stop at the international border with Germany. Border guards walked through the bus checking everyone's passport, and oddly they seemed to only interrogate German citizens. When the guard glanced at our U.S. passports he walked past us without saying a word.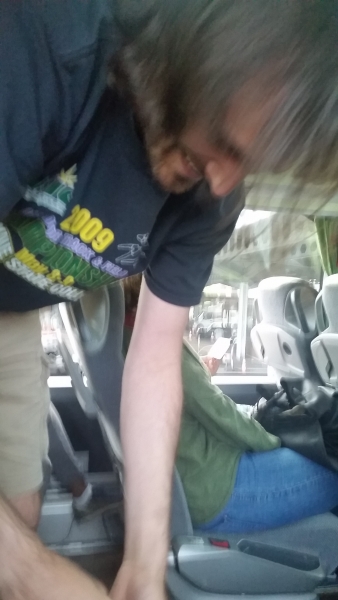 Since we were stuck at the border without moving, I thought it would be a good time to grab my headphones from the laptop bag I had stored above my seat. Unknown to me, however, was that a bottle of ibuprofen had come open in the bag. So when I unzipped it, a cascade of pills fell onto my seat and into the bus aisle. I noticed the other passengers turning their heads toward me, and as a reaction I declared that I was smuggling drugs as a joke to ease the tension. My joke was met with a few nervous laughs as I fumbled to pick up the spilled pills. Melissa, however, didn't think it was a funny thing to say and told me I was lucky that the border guard didn't see or hear me.
In total our bus ride to Hamburg lasted twelve hours. Neither of us were able to sleep as well as we'd liked since in each little city the bus stopped at the lights would turn on and the driver would make a loud announcement that always woke me up. Just after 7 a.m. we groggily stepped off the bus into a cold, gray, drizzly morning in Hamburg. There was a McDonalds next to the bus stop where we grabbed sandwiches, coffee, and changed our shirts, then we slowly found our way to the hotel we had booked.
After dropping off our bags, we took a long walk down to Hamburg's port to wake ourselves up, and to work out our stiffness from the bus. The drizzle turned to a steady rain, but fortunately, once we reached the port, we walked along a long pier/dock which was mostly covered. On one side of us were tourist boats with crewmembers hawking passersby to come aboard, and on the other side restaurants with staff bidding us to come through their open door. Melissa and I talked to a boat person and ended up buying tickets for a noon sightseeing tour in English, then we sat down at an inviting restaurant for more coffee, and for more breakfast food.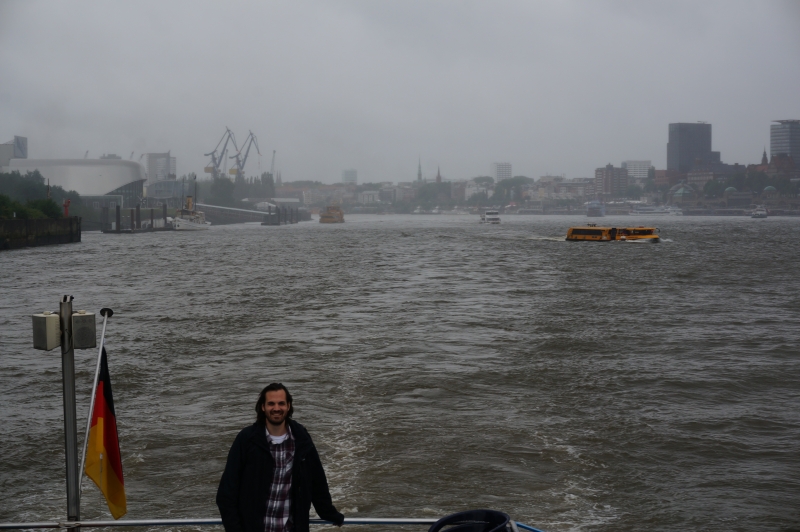 Around 11:30 a.m. we saw our tour boat pull up to the dock, so we decided to board right away since we had already spent our time waiting for it seeing all the other sites along the dock. The rain from earlier had been replaced with periodic drizzle, but we didn't trust the weather enough to sit outside. At a table on the second deck of the boat we enjoyed some beers as we prepared for the tour to start. I ruined our plan, though, as soon as the boat started moving. The combination of alcohol, lack of sleep, and motion caused me to feel nauseous. I made Melissa join me on the cold, outside deck of the boat, where luckily I felt a little better.
The tour took us past some architecturally interesting buildings next to the water, and then through some of the smaller channels shooting off from the main waterway where gigantic container ships were being loaded and unloaded, and one huge cruise ship was docked. All throughout the hour long tour our tour guide spit out facts and trivia about the sights we passed.
All our busy sightseeing was catching up to us by the time our boat returned to the dock, so we went back to our hotel and spent the rest of the afternoon taking a nap. When we were ready to go again, around 5 p.m., we were happy to see the rain had let up and there were even a few patches of blue in the sky. Being that Hamburg is so far north it still felt like the middle of the day as we made our way to the old town by subway. We followed the crowds of tourists to Hamburg's impressive town hall, and then we walked along a lake in the middle of the city, until we found more twisting, narrow, old streets to wander through.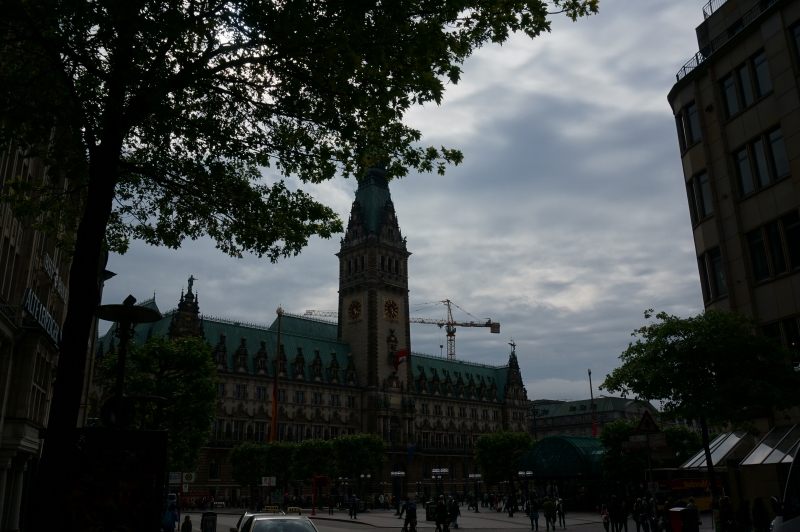 After seeing the old town, next on our itinerary was Hamburg's hip Reeperbahn Strasse neighborhood. We were about a mile away, but we decided to walk instead of trying to navigate the public transit. Along our walk I thought it was really interesting how peaceful and quiet the residential neighborhoods became when you walked just one block off the touristy areas. It's also worth mentioning that we saw a lot of graffiti, (spray paint, posters, and stickers) throughout the city as we walked, which said one thing or another about the upcoming G8 summit scheduled to be held in Hamburg.
When we stumbled upon a wide boulevard filled with groups of partiers, we knew we had arrived at Reeperbahn Strasse. Restaurants and bars lined both sides of the street with the occasional theatre or sex shop interspersed amongst them. The median of the street had a wide, pedestrian only section, where food and beer stands were set up near a stage for live music. Just as interesting as the buildings around us, were the people on the street. As we walked we saw numerous groups of young men, or young women in halloween-esque, matching costumes out celebrating bachelor and bachelorette parties. Stranger than them though, were the tour groups we passed at least three or four times filled with straitlaced looking middle-aged people being led around by a drag queen tour guide.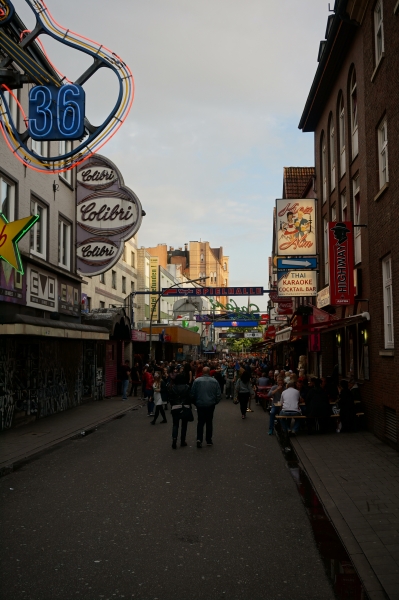 For dinner we stopped at a restaurant recommended by Britt where I was excited to have a hamburger in Hamburg. Melissa and I then hung out by the live music for a while, before we walked the whole length of the party neighborhood. We then turned around to walk back to the hotel. The sun was still shinning at 9 p.m. when we came up to our room, but we were both so tired that we just closed all the curtains then hopped into bed to rest up for our next day.
Sunday morning we only had enough time to scarf down our hotel breakfast, then we had to hurry off to the train station with all our luggage. After a train transfer in the city of Hanover, we boarded a regional train toward Braunschwieg, Germany. On the regional train we met an Irish lady, and Californian man who were in Germany to teach English, then, when the ticket checker came through and heard us speaking, he let us know that he was originally from Scotland. All the small talk in English with our new friends caused the ride to fly by, and before we knew it, we had reached our station.
When we stepped out to the platform in Braunschwieg, Britt quickly found us, and then helped us bring our luggage to her car. Her parent's house, where we'd be staying for the night, was just a short car ride away in a more rural town called Salzgitter. While I sat in the front seat, with Britt driving and calmly talking to us, I couldn't help but notice how fast we whizzed by the other cars on the autobahn. My eyes got wide when I snuck a glance over to the speedometer and saw 170 km/hr (105 mph). I commented that we seemed to be going really fast, only to have Britt nonchalantly reply not to worry, because this was the normal speed everyone drives.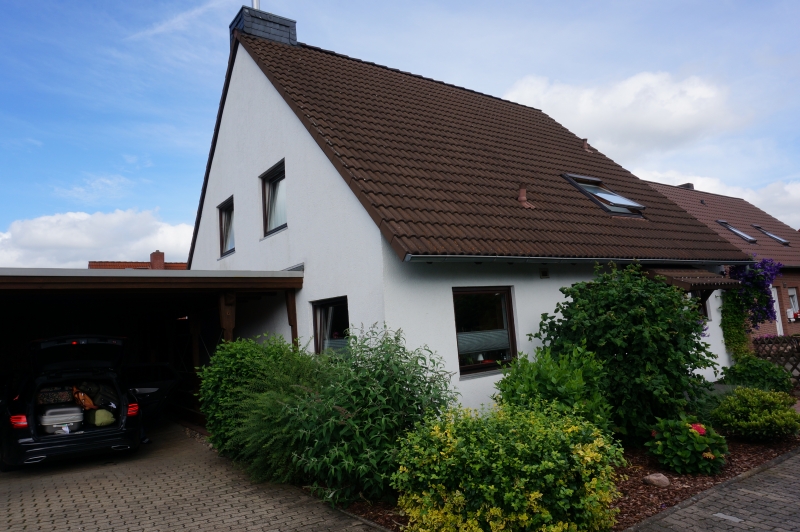 At the Sieber home, we met Britt's mom Gabi, and her dad Rolf, then we brought our luggage up to Britt's only sibling Lar's old bedroom. Gabi spoke English fluently, but Rolf was just a step below fluent. This meant there was a lot of German spoken among our hosts, which I thought was fun because I had taken some German in high school. I couldn't follow along with much, but I appreciate that they humored me as I tried to say a few baby sentences, and converse with them in German every once in a while.
Before loading back into the car for some sightseeing of the surrounding countryside, our wonderful hosts served us some delicious, thin waffles with cherry sauce for lunch. We then cruised through Salzgitter, seeing Britt's kindergarten, elementary school, and then the stable and pasture where she keeps her horse, which were all within walking distance of her house. The other parts of the city were spread out in tightly packed urban zones dispersed between farm fields. Gabi told us that despite the city having a population around 100,000 people, it was really just a collection of small villages.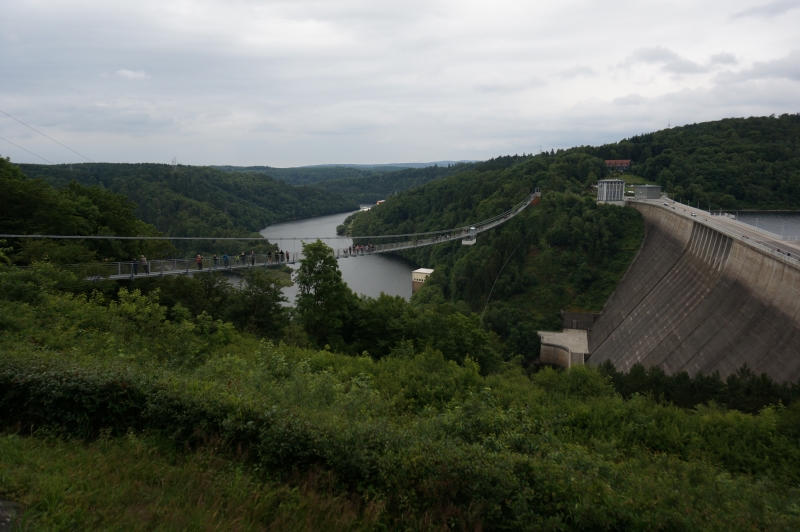 Rolf then drove us south into a section of scenic, hilly terrain set aside as a nature park called the Harz. Near one of many tree covered summits we pulled off the main road into a busy parking lot. Our original plan was to take a short hike from the parking lot to one of the longest pedestrian suspension bridges in the world, however, when we came to buy tickets to walk across the bridge, we were told we'd have to wait in line for at least an hour before we could cross. We then changed our plan to hike to a scenic overlook that viewed the suspension bridge, the canyon it crossed, as well as a large lake held back by a tall dam.
From the nature area, we next drove through a few different German towns. The Siebers let us know that we were in the former East Germany by pointing out the boring, boxy style of architecture, and by pointing out an old East German car that passed. They told us a funny story about how the West Germans hated the East German cars after reunification because their emissions were so bad that they'd set off fire alarms in parking garages.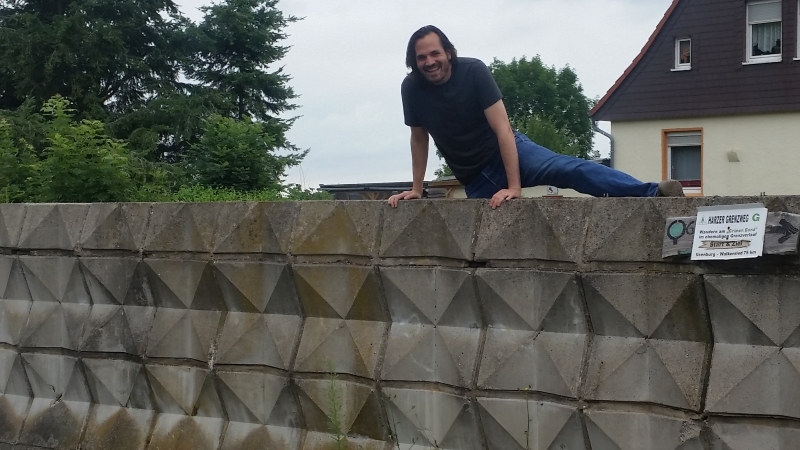 When we came to the former border between East Germany and West Germany we made a quick stop to check out the remnants of the wall, then we continued our sightseeing by driving to the town of Goslar. Unfortunately, a steady rain began falling as we entered the historic town, so we stayed in the car to explore it's curvy cobble stone streets, lined by medieval buildings. Our last stop, before returning to the Sieber's home, was a scenic overlook with views down to the city of Salzgitter. The rain let up for us, and we enjoyed a nice view of the mixed farm fields and houses of the city.
Back at the house we each had a beer on the Sieber's patio as we waited for Lars and his girlfriend to meet us. A few minutes after they showed up and introduced themselves, we loaded into two cars and drove off to a restaurant for dinner. The Siebers told us that the local specialty food is currywurst, and that the restaurant we were going to had the best currywurst in all of Germany. Not wanting to miss out on the best currywurst in Germany, Melissa and I both ordered it, and loved it. The dish is a grilled pork sausage, similar to a hotdog, covered in curry sauce, and served with french fries. The curry sauce tasted similar to ketchup, but wasn't as sweet, and had more spices in it.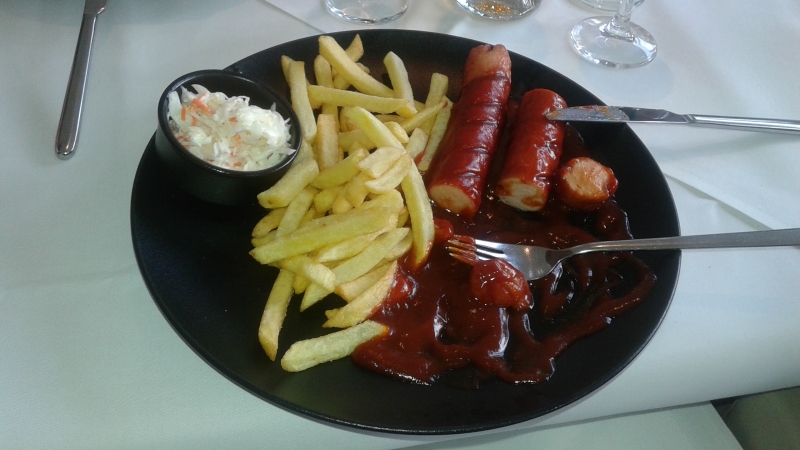 We said goodbye to Lars and his girlfriend after dinner, then returned to the Sieber home. For the rest of the evening we sat around a table playing skipbo, and chatting, while Rolf also had a soccer match on TV. Gabi made sure to keep our drinks full, and as I drank more and more I seemed to remember more and more of my high school German.
The next day we woke up to find a big German breakfast set out for us. Among the various breads, meats, and cheeses was a meat paste that reminded me of braunschweiger. Since we were so close to Braunschweig, I asked them if they call it the same name as Americans, but I was surprised when they said they don't call any meat product braunschweiger.
After breakfast we packed up our suitcases and loaded them into the Sieber's car. Rolf was away at work, but Gabi and Britt came with us to Braunschweig for a little sightseeing before we had to catch our train to Frankfurt. In the town we parked near an interesting downtown shopping mall, which used to be a palace, then we went off exploring. We saw a couple charming squares, both the old and new city halls, as well as some impressive churches. Braunschweig was a city never on our radar, but it was a good reminder that no matter how much you've seen in travel, there will always be more interesting rocks to overturn.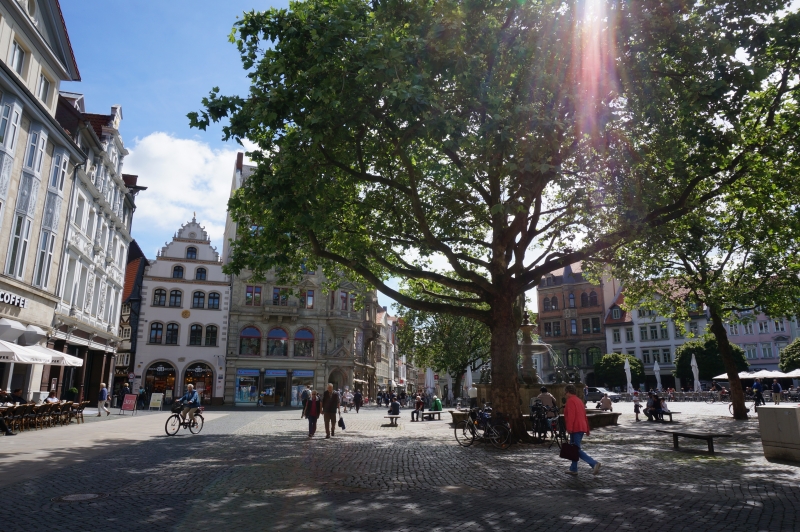 Once we made our way back to the shopping mall, Britt took us to her favorite ice cream shop. In a fancy restaurant atmosphere a waiter brought us menus where the only items were ice cream. After we indulged on ice cream for lunch it was sadly time to head for the train station. Gabi and Britt walked us up to the platform, then waved goodbye to us as our train pulled away from the station. It was so much fun hanging out and exploring Germany with the Siebers, that for a second I regretted that we'd be soon leaving Europe. Comforting me, though, is the knowledge that the next chapter of my life will have new and interesting things to explore, and that the people and places of Europe remain just a plane ride away.
In Frankfurt we turned on google maps to find our hotel as soon as we exited the train station. Annoyingly, there was some kind of error with the app that plotted out a mile long walking route for us. When we finally, exhaustedly pulled all our luggage to the hotel entrance we saw a bus stop that would have taken us directly to the hotel from the train station. Up in our room we caught our breath, then spent some time doing one last reorganization of our suitcases. (The next day, when we checked in our two checked bags, I was amazed at how good a job we had done, because they both came in at 48 pounds.)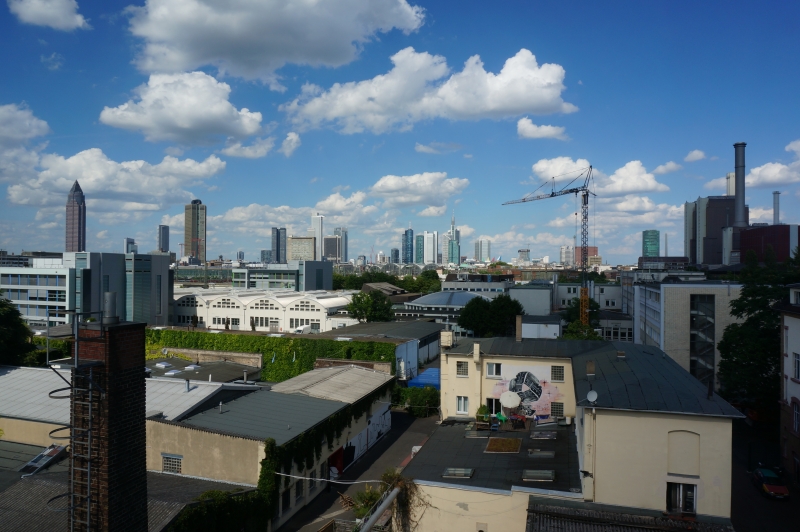 Before dinner we took a short walk along the Main river, until we came to an okay looking restaurant called Chicago Meatpackers. Despite the name, though, they didn't serve any frankfurters. After eating and enjoying a couple beers, we returned to the hotel where we went to bed early.
The next day we made life easy on ourselves by riding a taxi to the airport instead of trying to figure out the public transportation with all our luggage. We easily made it on our first flight, then, after a short layover in Amsterdam, we ended the European chapter of our lives by boarding a direct flight to Minneapolis.