Napolean said "an army marches on its stomach" and that is what the Olson family did on their recent trip through Switzerland and Paris.
Our gastronomical adventures started off on a great foot with the quantity of food dispersed on the plane by Delta Airlines.  I guess giving us massive amounts of food and drink is their way of spending profits from the high ticket prices during this time of low oil prices.  We were fed a snack, supper, another snack, and breakfast on the plane – along with free beer, wine and sodas 🙂
When we got to Phillip and Melissa's apartment, Melissa made us dinner of macaroni and cheese.  While that sounds like a Kraft box mix, it wasn't in Melissa's Switzerland apartment.  Melissa made her mac and cheese with a blend of melted Swiss cheeses, herbs and pasta.  She also made us a mixed salad.  We had to have Swiss wine with this (of course).  The meal was so good that Mike wants me to make mac and cheese with real cheese from now on (not just the usual Olson recipe of a mix with Velveeta added).
For junk food, Phillip had us try a pop made from whey.  I thought it was good; a nice fun way to get dairy in your diet.  We had a French silk pie for dessert.  And we had chocolate – bars and cookies. The cookies were so good that I bought a few boxes to share at Easter.  They were a sandwich type cookie with chocolate frosting in the middle.  The bars were like a twix candy bar (but with Swiss chocolate and more of a wafer in the middle than a cookie).  There were also plain milk chocolate and hazelnut chocolate bars.  (I'm kind of drooling here at my computer just thinking of these)
Breakfast the next day was another surprise.  We had cereal – but the cereal in Switzerland includes… chocolate!!   Phillip had 3 different kinds of cereal for us– one that was kind of a Captain Crunch with chocolate in the middle, called "Tresor", one called "Cereals Lion" which was kind of like CocoKrispies (but with more chocolate than krispies), and the best one was like Raisin Bran, but with dark chocolate instead of raisins, called "Cereal Flakes Choco".  Wow – gotta love those Swiss.  (I'm not sure how they stay so slim).  The milk is different too – it doesn't need to be refrigerated until it is opened.  Wayne said it was super pasteurized.  It tasted a little like milk that has sat out for a while, but it worked on the chocolate cereal.  Phillip also bought us muffins, oranges and apples.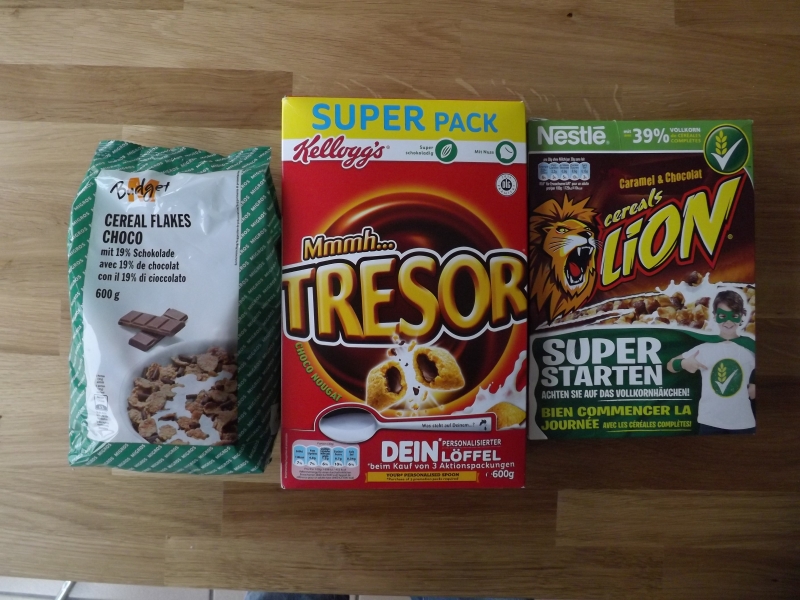 And then there was the coffee.  Wayne and I are the regular drip coffee-maker kind of people (well, truth be told, Wayne likes instant coffee…).  Melissa has an espresso machine that was fun to try, along with a French press coffee-maker (we are told it is just called a press coffee-maker in France).  So, making coffee was a new experience for Wayne and I.
Pizza, at the only open restaurant in the wine region, was our fare for lunch on Saturday.  I thought it was good.  I had a sausage pizza, and got to try the bruschetta salad Dan and Ann ordered.  The fresh mozzarella cheese and basil were outstanding.
Supper that night was soup that Phillip made for us.  He made a potato soup with onions and herbs added.  Wayne thought this was the best supper of the trip (way to go Phil!).  We then had pecan pie for dessert.  Thank you Janell for sending the pie for Melissa's birthday, and thank you Melissa for sharing (it was pi day in America for all of the science geeks out there – 3-14-15, however in Switzerland they missed out because it goes day-month-year, they write it 14-3-15 ).
Sunday we had a brunch of bacon, eggs, toast and pancakes, with real maple syrup from Canada.  Since we lumped Breakfast and Lunch together, we decided to lump Lunch and Supper together on our day trip to Geneva.  Dan and Mike picked out a fast food restaurant that serves kebabs.  It was nice to try a new ethnic food even though it wasn't ethnically Swiss.
Monday we went skiing and packed a lunch of sandwiches.  They were a little gourmet with turkey, prosciutto and Swiss cheese.  When we got home, Melissa said supper would be a little late, so she had set out an appetizer assortment of bread, cheese, prosciutto, salami and wine.  I only wish I had taken a picture of how beautiful the table looked.  (Melissa you are missing your calling of being a famous chef!)  Melissa made roast chicken, garlic mashed potatoes, and roast vegetables.  That was Kevin's favorite meal by far.  Are you getting the idea that Phillip and Melissa spoiled us?
On Tuesday we started the day with cereal, then Ann and I went to the Coop market and bought stuffed croissants and calzones to eat on our train ride to Lucerne.  For dinner, Melissa picked out a restaurant in Lucerne that had traditional Swiss fare – fondue and rösti.  Wow – was I full after this meal!  Again, we wondered how the Swiss stay so slim.  Although the walking up and down hills probably has a lot to do with it.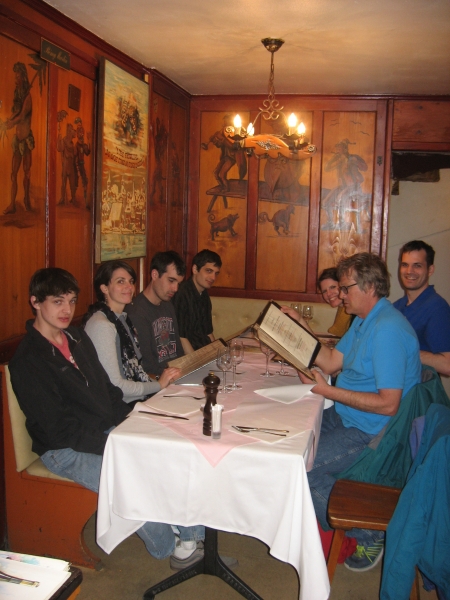 Now on to Paris!!
Breakfast in Paris consisted of croissants, apple and chocolate brioche (more like a square croissant) and swiss chocolate pastries from a pastry shop down the block from the apartment we had rented out.  My favorite of all of these was simply the plain croissant.  It was so buttery tasting.  I still dream of these…..
Lunch in Paris:  The first day we had sandwiches from the same pastry shop.  They were kind of like a foot-long Subway sandwich, but with much, much better French bread.  One day Mike went to McDonalds.  He had the McDouble meal.  He thought it was pretty good – so he had to go back another day for a snack.  Mike did think that the fries were better in Paris than in Faribault.  I guess there is a reason they are called French fries 🙂
Lunch and suppers also consisted of Italian pasta, salads, onion soup (known as French onion soup in other parts of the world), salmon, liver, etc, etc for the various groups.   All of the entrees were served with very, very good French bread.
Snacks in Paris were also great.  There was a crêperie down the block (a few stores from the pastry shop).  We simply had to try that one night.  I got the lemon crêpe – it tasted like it had lemon curd in it (fantastique!).  Mike had a Nutella with banana crêpe that he loved so much that he talked Ann into getting one the next night.  Melissa told Phillip that he will need to learn how to make these crêpes.  But since Phillip is in Switzerland, I think I'll have to learn how to make them too!
Just next door to the crêperie was the ice cream shop that is rated the absolute best in Paris – Berthillon.  So, of course, we had to try this.  The first night, Wayne, Mike and I did not have our great French interpreters (Melissa and Phillip) with us.  So we just pointed at what we thought looked good.  Mike ended up with a brandy and raisin blend, and a chocolate licorice type ice cream.  Wayne stuck to chocolate, and I ended up with root beer.  Wayne generously took the brandy and raisin ice cream off of Mike's hands, and I traded my root beer for his licorice.  It was all good.  The next time we stopped, Mike got vanilla with caramel chunks and I got apricot.  At another ice cream store, with Melissa and Ann, I got a scoop of coconut and a scoop of mint chocolate chip, Ann got cookie dough, and Melissa got chocolate chunk.  We all shared and they were all superb.  The French ice cream doesn't seem as full of cream and as heavy as American ice cream.  It is more flavorful and refreshing – like a gelato type ice cream.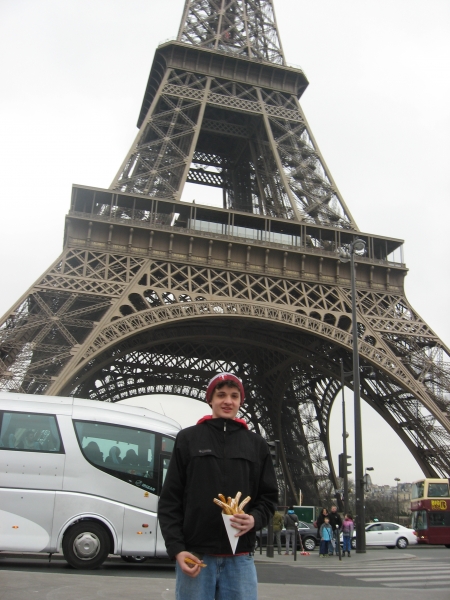 Evenings in both Paris and Switzerland consisted of wine, baguettes and cheese.  Ah, the lifestyle of the gourmand traveler….