Friday March 13th all the Olsons, my parents, three brothers, and one sister-in-law, came to visit.  After making the the trek from the Geneva airport to our apartment, we spent some time unpacking and I opened the "presents" they brought (two suitcases full of our stuff we just couldn't carry with us when we moved).  Dan also knew us well enough to bring us each something we couldn't find in Europe.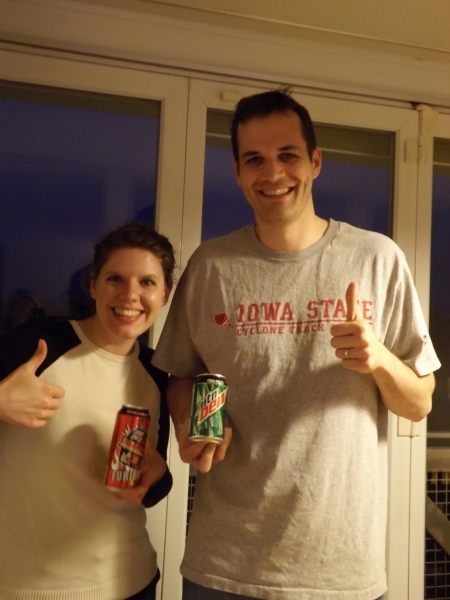 It was just after noon and everyone was very tired from the long plane ride.  My Dad and brother Mike needed to take a nap, but the rest of us decided to travel into Lausanne to fight the urge to sleep and get into a European sleep schedule.
We walked along the lake front, through the old town, and through the cathedral.  It was a little hazy, but we could still see the mountains.  Unknown to us, it ended up being the clearest day of their visit.  We came back to the apartment just as Melissa was finishing cooking a dinner of macaroni and cheese.  Soon after dinner everyone collapsed exhausted and ready for bed from the long day.
The next day's itinerary was hiking around the Lavaux wine region just east of the city of Lausanne.  Dan had read about it online from a things to do in Lausanne list, and since Melissa and I hadn't gone yet we thought it would be fun to all discover it together.  The marked trail twists and turns up and down the hills for 11.7 km from the villages of Lutry to St-Saphorin.  In the summer until fall they have a promotion where you can buy a wine glass, and walk from tasting to tasting along the path, but unfortunately we were too early in the year for this.
Our hike began at the farthest point on the path from Lausanne, in St-Saphorin.   St-Saphorin is a small cluster of ancient houses around an ancient church.  The narrow winding cobblestone streets, uniform old architecture, and handful of buildings make it my idea of a quintessential rural European village.
We found the hiking trail right away from the train station.  It was well marked by a yellow sign pointing up a steep hill through the village.  We stopped often on our first leg of the hike to take pictures, read informational signs about grape growing, and to hunt for little lizards that were all over the walls sunning themselves.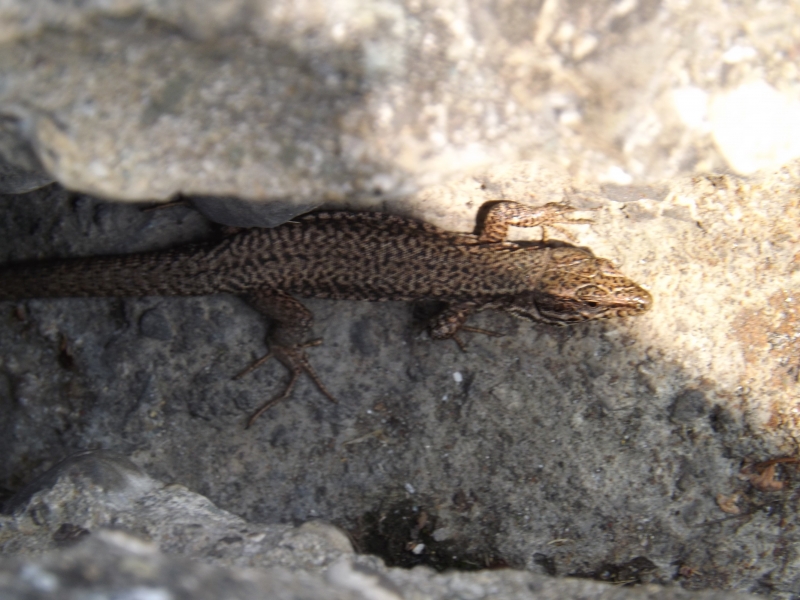 Around lunch time we came up to the second village called Rivaz and we were hungry.  We walked by a few restaurant looking buildings but nothing was open.  We had just about made it down to the train station when we found probably the only open place in town, a pizza restaurant.  I think the Olsons were a little surprised at the Swiss prices (typically double what you would pay in the U.S.), but no one complained and everyone seemed to like their meals.
After lunch my Mom, Dad, and Mike decided to part ways in Rivaz and let the young people see how far they could hike.  Our first order of business was hiking over to the Vinorama, a business just outside of Rivaz where you can do wine tasting.  The person pouring spoke perfect English and filled us in a little on the history of the terraces.  Each pour was about half a glass and we got to try three different wines.
With new energy for hiking, we left after one tasting and walked along the road by the lake until we found a side road back up into the terraces.  I wouldn't recommend walking along the lake road; it's a little scary with the cars zipping by so fast and no side walks.
The trail after Rivaz had more zigzags up and down and the hills started to seem steeper.  We soon realized we weren't going to be able to finish the whole hike.  Around 4PM we reached the town of Grandvaux and it seemed like a good time to take a train back to Renens.  Grandvaux is such a small station to make it back to Renens we first had to go a couple miles in the wrong direction to a bigger rail hub.  The ride in the wrong direction was nice though because the rural scenery was different, with pastures and crop fields instead of just vineyards.
When we got back home I cooked up some soup and grilled cheese. Then, as we planned out our next day in Geneva, we all drank some of the wine we had a new appreciation for.