It's been a whirlwind week of travel with the Olsons.  On Monday everyone, except Melissa, traveled to the town of Villars-sur-Ollons to ski in the Alps.  Melissa was a little nervous about her skill level, so decided to go to work instead.  She guessed correctly, the slopes had no skill level signs and were the steepest and hardest to ski of my life.  It was still fun, and the views were amazing, it was just very challenging.   My parents and Mike quit after lunch, and Kevin had a bad crash when he found some bare ground on a trail.
On Tuesday our residence permits finally arrived!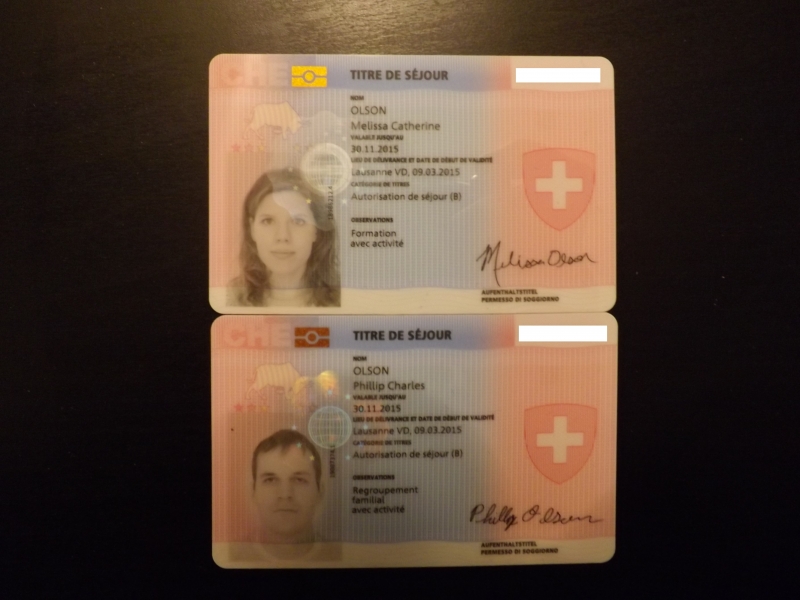 We didn't have time to celebrate though because we had a busy day of sight seeing planned in Luzern, Switzerland.  Luzern has mountain views, a lake, a river, old medieval buildings, and German speakers.  It's what my parents think of when they think of a Swiss city.  We had a nice time walking around and had a traditional Swiss dinner of  fondue and  rösti at a traditional looking Swiss restaurant.
Wednesday our big group miraculously all got ready and out the door by 7:45 AM in time to catch the train to Paris.  In Paris my Mom had booked  two apartments in the same building, for three nights.  We stayed right in the center of the city on Île Saint-Louis and tried to visit all the main sights.
We did so much this week, and took so many pictures I feel like I have to break the days up and give them each their own post to get it all down.  I hope to have it all done soon because we have another busy week welcoming our second guest, Melissa's cousin Kirsten this next week.