This last Saturday we spent the day in the city that gives Lake Geneva its name.  We left at 11AM and got there in about 40 minutes by train.  The area between Lausanne and Geneva is mostly developed, but occasionally we'd go through some fields or vineyards.  It was a very scenic ride, on one side of the train we never lost sight of the lake, and French Alps, on the other side were the rolling foothills of the Jura mountain range in the distance.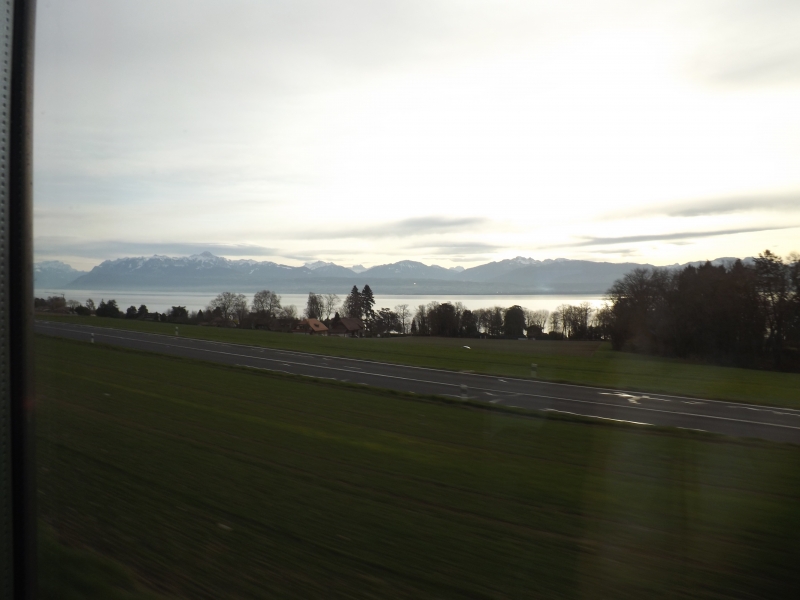 View from the train
---
We brought along the guide book my Aunt and Uncle Paul and Linda gave us and read a good review on a restaurant called Cafe de Paris, so we decided to stop there for lunch.  They only have one thing on the menu: steak and fries. The meat prices here in Switzerland are very high, at least double the price in the US, so it was very good to finally get some meat again.   However, when we got the bill of 120 francs at the end of the meal we remembered why we've been skimping on meat!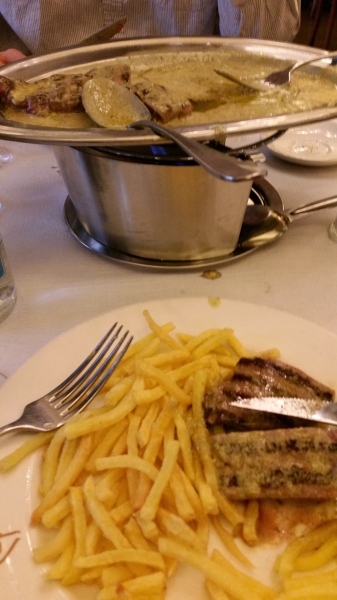 Steak and Fries at Cafe de Paris
---
The big landmark of Geneva is the Jet d'Eau.  Its the largest water fountain in the world, shooting water 459ft into the sky.  You can't miss it, we could see it miles away on the train, and from lots of places in the city.  We got up close and took some pictures, but it was too bad it was such a gray day.  If it was a clear day we should have been able to see Mont Blanc, the tallest mountain in the Alps, in the background.  Mont Blanc is about 50 miles away from Geneva on the Italian/French border.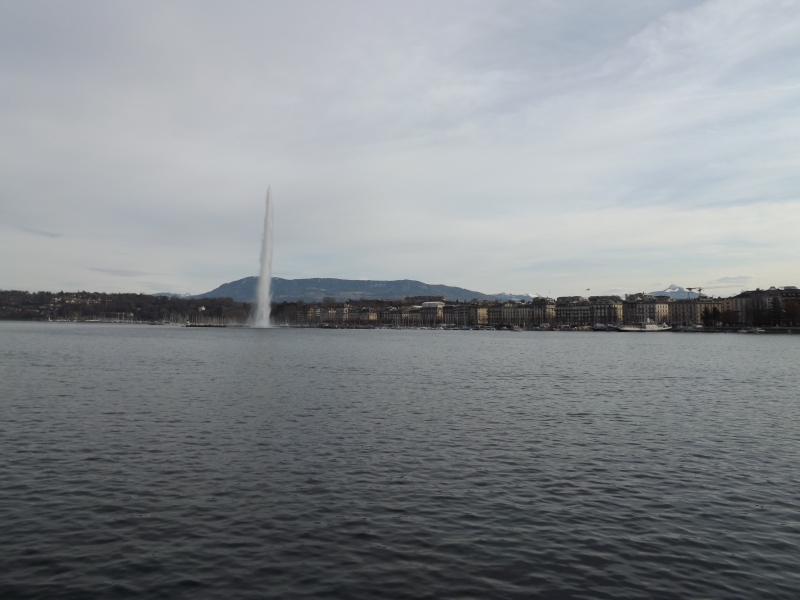 Jet d'Eau
---
Next we stopped at the Musee d'Art et d'histoire.  We didn't take any pictures inside because we didn't know if it was allowed, and they had guards watching in most of the rooms.  This was our first European museum visit.  They had works ranging from modern to medieval, along with some ancient Egyptian, Roman, and Greek artifacts.  It was cool to see paintings by painters I've heard of like, Monet, Picasso, Renoir, and Van Gogh, and I thought the ancient Roman coins were a highlight.  The museum was surprisingly not crowded considering the great exhibits they have and that entry is gratuit (free).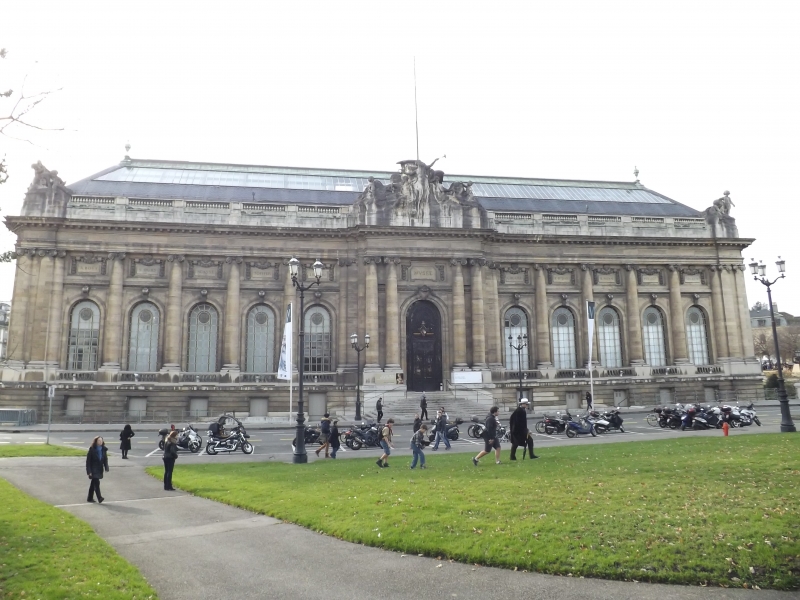 Musee d'Art et d'histoire
---
Then we walked over to Geneva's old town.  We thought we'd just walk around and look at the old buildings, but it turned out there was some kind of festival going on.  There were lots of people dressed in renaissance customs parading through the narrow streets with flutes, drums, horses, muskets, and even a flock of geese.  We wandered into a building where a brass band made up of costumed people was playing.  In front of the cathedral they put on a show shooting off the muskets, and we even got to see a cannon shoot off one of the city walls (it only had powder), but it was loud.  Melissa rightly guessed this was the Fête de l'Escalade because one of her lab mates is from Geneva and was talking about it Friday.  The festival celebrates December 11-12, 1602 when the city successfully repelled an attack by the Duke of Savoy.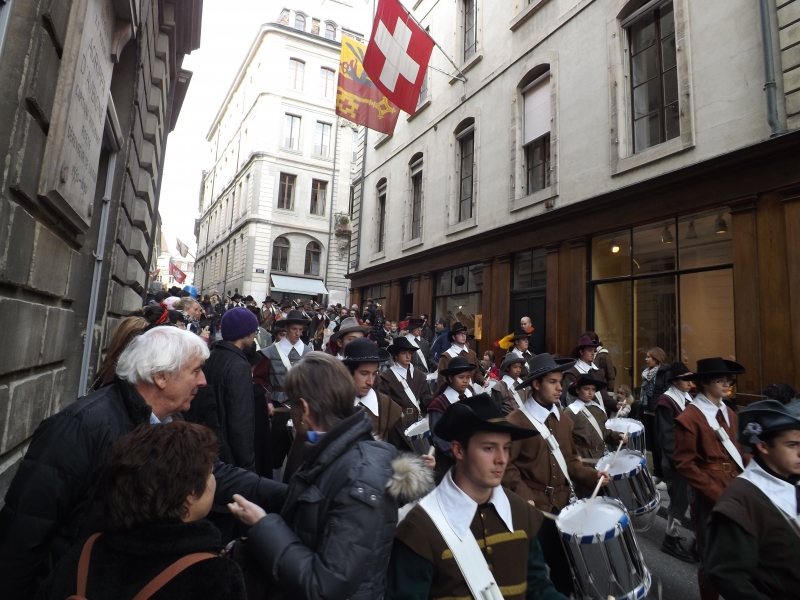 Fête de l'Escalade
---
Our last stop was the Parc des Bastions, where we saw the curious placement of an outdoor ice skating ring right next to a palm tree. They also have a huge mural celebrating the protestant reformation. After putting on several miles by foot we left for home about 4PM. It's exciting to know so much of europe is only a day trip away!
Palm Tree in Switzerland